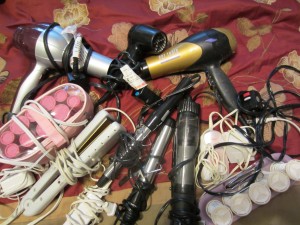 Today is the day we gather all of the hair dryers, straightening irons and curling irons in the house.
Your question:
When was the last time I used each one of these?
I Look Good…
When I go through old photographs I am always amused by the decades of different hair styles. How can you not love the big hair of the 80's? I think that is when I first bought all of the different sizes of curling irons and hot curlers. Then they came out with the straightening iron because curl was out. Hair dryers are a necessity but I honestly don't remember those growing up. Then of course we all needed the miniatures of everything for when we were traveling.
Safety
Most of this stuff is kept under the bathroom sink, in a bathroom drawer or maybe in your closet. If they haven't caught on fire they are probably still there. One thing to consider is safety. If you have little ones around or grand-kids that come to visit nothing looks more inviting than a plug to stick into the wall. How many of us over the years have burnt ourselves on that darn curling iron? Cords get old and wires pop out not to mention the build up of hair, lent and fuzz that again can be a fire hazard.
Travel
If you travel you will know first hand there are hair dryers in almost every hotel room in the world. If it isn't in the room the front desk usually has one. And besides unless you have the right plugs for that country  your hair dryer won't work.
Truth be told, most of my hair appliances have not been used in years and it was time to be ruthless and let go. I kept my newer hair dryer and a  little  5 curler travel pack and it's now time to say goodbye to the rest of it.
Check out some safety tips