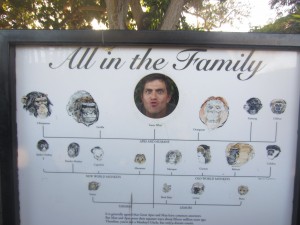 Organizing family photographs is going to take some time but organizing the family tree is a different story. I was the one in the family to inherit all of the important paper work from grandparents. From old SSN cards, Army separation papers, Marriage licenses and death certificates.
While going through the garage I found a big folder with piles of unorganized papers that my mom put in there when her mother died. I'm not sure how this packet went unseen by me for this many years, but it did.
It's not often that I am left alone in the house for a day but that was the case yesterday. It was nice! I could clean and organize and watch whatever I wanted. TV's were turned on in every room, all tuned to different stations and it was loud.
There were tax folders to be organized all over the kitchen table, photographs were spread all over the living room table along with those old papers and documents and sheets were crowding the hallways as they were being washed and carried back and forth from the laundry room.
You could smell the buttered popcorn through out the house because that was lunch and dinner along with the artichoke hearts from Costco and my box of Jujy Fruits and Good and Plenty. I was set for the day.
As I took a break from cleaning, organizing photos and washing sheets I sat down on the couch to look through the pile of papers that had been ignored for several years. On more than one occasion I have asked my mom about her grandparents and their families and what were some of the last names. She didn't know.
This is when you wish you could ask your grandparents, but it's too late. I ended up researching most of the day the names on the birth and death certificates.  If your last name is;
DYSART, MOORE, HULETT, PERRIN, OWNES, TURNER, YOCUM, MURRAIN, SEFFING, FRIETZ, MANDEVILLE, SCOTT, BUTLER, OR PALMER,
then we are related on my mothers side.
On my fathers side, we are related if you are Basque from Northern Spain. There will be several updates to this post. This is going to take several months to get in order and then I will have to decide what to do with all of these documents.
What can you do today to be organized in this area? For starters, you can ask those that are living the details of their family history. If you don't have anyone to ask then you can share with your kids and grand-kids the information you know.
One day it will be too late.