To declutter means to be more organized.  Being more organized can make cleaning go faster, easier and produce better results.
My sister kept several of my old books on cleaning and organizing. They are the books that were used in teaching those organizing classes years ago. She gave them back to me to review again.
Household Hints & Handy Tips, It's Here Somewhere and The Messies Manual, to name a few.
Again, I can save you time and money. All of the books say basically the same thing. Start with getting rid of stuff you are not using. If it doesn't add value to your life then sell it, give it away or toss into the trash. If you are ready to clean, then here is a word of warning;
If you think you have a clever idea about cleaning with things around the house then google it first, learn from others.
My dumb mistake.
I was hoping to tidy up my backyard. Getting rid of things that were no longer being used, a few toys, and some weathered chairs and then there were some things for the trash. There are 6 iron chairs that were looking dirty and dull. First I washed off with soap and water, then I got the bright idea of using pure olive oil. The oil was natural so I thought it would make them shiny. It worked, they were shiny and pretty. A few days later I sat down on one those chairs and my arm stuck to the arm of the chair.
This isn't good, why were the chairs all sticky? It was the olive oil. They were shiny but not fit to be used. It took me days to scrub off the stickiness. Even after that, someone would come over and sit in one of chairs and tell me that there was sap on them. I was always too embarrassed to tell them what I had done.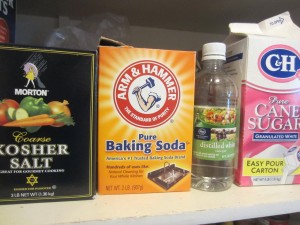 There is something satisfying with using natural things around your house to clean. Cheaper and healthier, like lemons, baking soda, vinegar and oil to name a few. Before concocting a recipe with things around the house, try and research first. Chances are someone else out there has tried and retried.
On wikihow it says I should use, baking soda, water, sponge and a soft cloth.
I will let you know if it works!