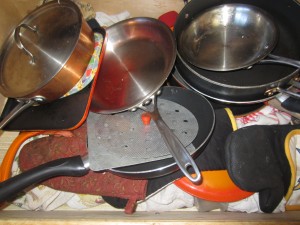 Over the years I've been in many homes that are incredible organized and even those homes have a mismatch of pots and pans. Could be because new clever pots have come out over the years that make cooking more exciting and efficient.
One idea is to hang on racks. This is supposed to make it easier to grab, cook, clean and hang.
But before we look into how to organize it is a good idea to pull out all of the pots and pans. What haven't you used in a year? Not using something for a year makes it likely you won't use this year but you make the decision, maybe for you it is 2 years or 5 years.
Trust me, I know how this works. I have a couple of pans from my great grandma that I use and a few that I haven't used in years. It is time.
DECLUTTER THE POTS AND PANS TODAY
Consider the lids as well. I have a favorite lid I use that actually doesn't properly fit the pans but it works. I also had lids that didn't match anything I own. I'm not even sure how they are in my cupboards.
With everything out of the drawers and cupboards, it would be a good time to scrub. Followed by covering with vinyl paper, rubbery material, painting, sticky paper, or any special material designed for covering and updating the kitchen.
Only put back what you use. The rest need to go.
Gift to someone else, goodwill it, or sell it.