Wish I could give you some clever, spectacular thing to do with these priceless things, that take up lots of space, that we never use, but I can't.
If you don't use it, and you don't like them but you keep anyways because they are worth a fortune, then I have news for you. I did try and research this one because all of these years I kept a few thinking they were worth lots of money.
THEY WERE NOT
I thought someone could buy them and melt them down, sell to a jeweler and I would be rich. Not going to happen.
Other trays  took up space as well. Occasionally I would put out as decoration but it was only because I felt obligated to use them. Growing up, my mom used trays a lot but maybe that was more the norm back in the 60's and 70's .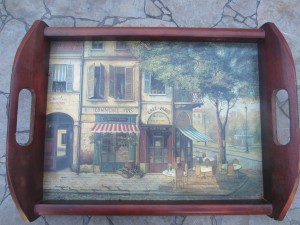 These trays can be bought in thrift stores, EBay, Amazon and at many of your local yard and garage sales.
Today would be a good day to make some extra space in your cupboards.
Chances are, you are not storing something worth a fortune.