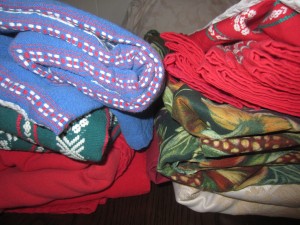 This is tough one for all of you sewers and crafters out there.  But even you have to admit you have kept extra material for years that has never been used but you keep, just in case. My mother in law was a seamstress and she was good. At times those extra pieces of material she had came in handy for all sorts of things.
My mom said back in the 60's that all women had a sewing  machines and they used them. It was common to go to the material store several times during the week to check out and buy left over material on sale.
All of those quilts we had growing up came from left over material. And if your parent or grandparent went through the depression it only would make sense that they would keep scraps of material for that very reason.
Even I got into quilting when my kids were little so the temptation to keep extra material around made perfect sense. But those days are over for me so why as I holding onto all of that material.
Getting rid of things I don't use is becoming more and more freeing. Someone out there could make something creative out of my left overs.
Back in the eighties my son's grammar school had a material drive. They would collect material and women in the community made quilts using that left over material. Those women made hundreds of quilts that were donated to an orphanage overseas. Those kind of creative people out there are just waiting for your donated material.
DONATE TODAY!