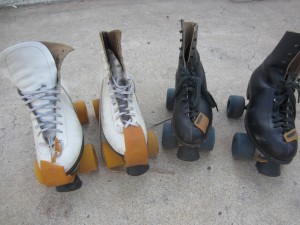 Going to the roller-rink in Junior High School was the highlight of the week. All the cute boys plus a chance to show off how great I was at the sport was a thrill.
Twirling and smiling at the same time was sure to put me into the Roller Skating Olympics. Well, it never happened and my days of being a roller-rink champ are definitely over.
I don't see many kids these days roller skating at all. At least not in the street and the old roller-rink shut down years ago. Yes, many of us have these old skates in the closet or high up in the garage somewhere.
Unless you plan to make some kind of statue or art display then maybe it's time to give away to charity. Someone out there may enjoy them for awhile.
There are many memories I have of spending time with my great grandma. We had 2 favorite programs we watched. Soul Train and Roller Derby.
WOW! Those girls were good!
Do you use your roller skates?
Do you enjoy them?
Do you need them?
Charity is a good thing!