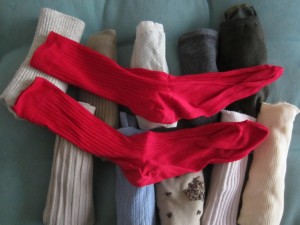 These things typically take up an entire drawer. From the solid colors to patterned to bright holiday themed socks, we can't possibly wear all of the ones we own.
The minimalism journey is fun!
Little by little you can get organized by decluttering things you no longer wear. That includes socks with missing mates and holes.
Gather your socks from drawers, closets and don't forget to check inside shoes. Lay them out on a bed and pull out the ones that you have worn during the year.
The rest can go. Recycling as a dust rag works or simply put in your ongoing donate bag.