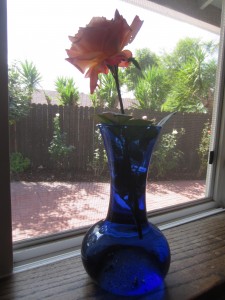 Collecting vases is what many of us do without even trying. Most flower deliveries includes the vase and over the years the vase makers have gotten quite creative.
I don't remember ever buying a vase but I have several that haven't been used in years. With all of the flowers in my garden it isn't uncommon for me to have fresh flowers displayed inside and out.
However, I don't use most of them so it was time to simplify.
Ideas
Make it a point to give flowers this year in a vase. Whether store bought or cut from your garden, they are pretty to receive.
Donate
Sell
Trash if they are broken and be careful if disposing sharp glass edges.
If you are a crafty person, there is no end to what you can do with extra vases around the house.
Making center pieces, coin jars, lamps, painting and decorating plain vases and creating a one of a kind masterpiece, candy jars, filling them with anything and everything for an unusual gift.
For the brave…..If you are ready to declutter your vases then here is a good step by step process.
Gather all of the vases in your house and put on kitchen table.
Take all of the vases that you haven't used in a year, wrap them safely and put in donate box.
Take the donate box to goodwill or 2nd hand shop.
How simple is that?
Time to add some water and fresh flowers to the vase I actually use and enjoy.