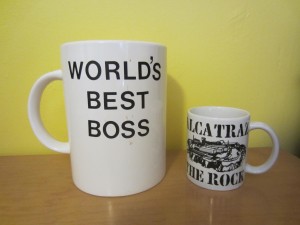 Do you have a full set of mugs that are routinely used?  Or a collection of chipped mismatched mugs that are not being used?
Thinking about what to buy for my husband when we were dating wasn't easy until I found out that he collected mugs. Then it got easy!
Easy for the buyer but eventually overwhelming for the receiver.
Ideas
These mugs have other uses besides holding tea and coffee. In many houses and offices across the world, it isn't uncommon to see them holding pens and pencils. Makeup or shaving soap, anything that needs a holder.
Re-gift with something fun inside. Candy comes to mind.
If you are done re-gifting and don't have any more pens or pencils to hold then think about donating.
Organizing is code for decluttering. To be successful you need to get rid of things you no longer use.
Make life simple and you will begin to feel more organized.