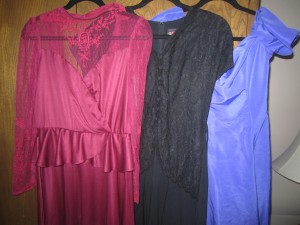 Here are just a few of the bridesmaid dresses that were in my closet. What a shame to only wear once but that is usually the way it goes.
The few blogs out there that addressed this issue basically came up with the same conclusions that I did.
OPTIONS
1. Alter them. If it is long, make it short. If it has sleeves, make it sleeveless. This changes the look enough that maybe no one will notice it is the same dress. Even if they did, they should be impressed at your resourcefulness.
2. Take to a consignment shop. These dresses can be expensive and they are mostly formal. If someone out there is shopping for a dress that they too will wear only once, a consignment shop is a good place to start. Make sure before you take to the shop that it is clean and doesn't have smeared cake on the back side.
3. It is material. If you are a creative craft person and can sew, cut up into pieces and make a quilt.
4. If it is from another decade, wear on Halloween as a costume.
5. Sell at a yard or garage sale.
6. Ask the bride if she wants to keep one of the dresses and give it to her.
7. Donate to local thrift shop.
These dresses are no different than other things in your closet that you are not wearing. That is to say, they are not being used and taking up valuable space. I finally put in the goodwill bag and they are now out of my closet. Why didn't I do this years ago? I guess because they were expensive and associated with a good memory I thought I was somehow obligated to hold on to them.
Today is a good day to take all of the bridesmaid dresses out of your closet. If they have been in there for decades then consider your options.
It's time to declutter those dresses.