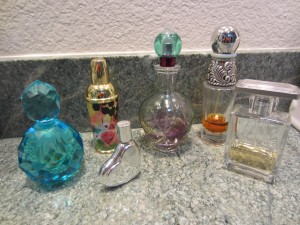 They are pretty, aren't they? Unfortunately the stuff inside smells more like rotten alcohol.
We love to collect pretty things but if your goal is to get organized maybe it's time to ditch the bottles.
It's painful, I know. Some were handed down from mothers and grandmothers. They are not only pretty but now they are sentimental.
These bottles represent so much of what we own. It's hard and emotionally unpleasant to even think about getting rid of them.
No need to panic. If you need to keep for now then keep. However, if you are ready to move on then let's get started.
Gather the bottles. Keep what you use. Give the rest away by recycling.
By clearing out, you've just made cleaning the counter top more efficient.
The next time you are out shopping and a pretty bottle catches your eye….you'll think twice about buying. Basically, by giving away, you've just saved some future money.