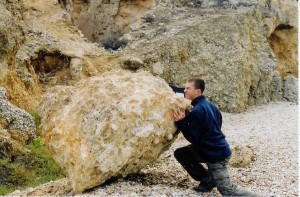 It isn't often any of us have to move a rock this big. But what about lifting a big old TV or a big chair that you no longer need? I have a friend that recently decided to get rid of his old TV and a big chair.
He thought calling around to some of the charities that did pick ups would gladly come get the items. However, because there is usually one driver most of our local places said they couldn't lift things that heavy.
There are several drop off areas in our community but those places don't take large items. Then he got lucky and found out that a recently opened  Goodwill Store in our area would accept large items in back of the store but he would be responsible to get it there. They confirmed that they won't take mattresses, washers, dryers or refrigerators.
PROBLEM. Finding someone or a charity who will take this old heavy stuff. The TV still works and the chair is decent but he can't lift them by himself.
SOLUTION. Call on family or friends to lift onto his pickup truck. Then take to donation center in your area that will take big stuff.

Selling second hand stuff has been around forever and is the great solution in the "circle of stuff" phenomena, for the donators and the buyers. I know I sound like Captain Obvious, but it isn't easy and many times it isn't obvious.
Notes on Recycling;
The world of recycling is growing. Currently the Federal Government in the USA does not have any laws mandating recycling. The legislation for recycling has been done at the City, County, and State levels.
In California, as well as many other states, there are programs that encourage businesses to start recycling programs. So before you make a trip to the trash dump with your broken up concrete patio, check out local companies that recycle concrete.  That goes for tires, mattresses, washers, dryers and refrigerators as well.
You will notice when you buy some of these items now there is a recycling fee you pay on top of the purchase price. Hopefully by the time you are ready to get rid of the item it will be easier to find local places that will take them.
The good news for now is, if you have an old TV or an old chair, call on family and friends and get it to a Habitat For Humanity Restore Location or a Goodwill Store.