This statement appeared in a blog I recently posted and several of you were confused and a few of you disagreed. So I will try making my case with the following story.
A few years ago I made a trip to the Burbank Airport to pick up my mom. Traffic can be hard to gage so I left in plenty of time and as luck would have it, I sailed through with no traffic. Close by the airport is a BIG store with everything a house could want, along with a little food court. With an hour to spare I headed over there to get a coke and walk through the store.
I don't know what they teach in marketing school, but it works. As I walked through that store, I wanted to buy. The bargains were unbelievable and if I didn't buy I would never have that opportunity again. Why, you ask?
Because the sign said so.
T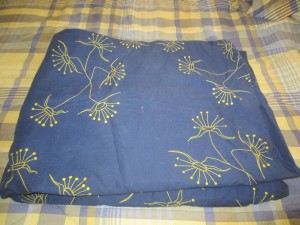 hat is when I spotted a blue duvet with a touch of yellow for $19.99. What a bargain! After all, changing a bedspread is kind of exciting plus it was new, clean and affordable. It was fun buying and I couldn't wait to get home to put the duvet cover on the bedspread to enjoy the new look.
I picked up my mom at the airport, dropped her off at her home, went straight back to my house and remade the bed with my new purchase. It wasn't until I remade the bed that I realised the new duvet didn't match the bed skirt so I made a quick trip to BBB to buy a bed skirt that would match. Ouch, this was costing a little more than I wanted it to but at least the first item was on sale.
The duvet cover was washed several times throughout the year and it was such a hassle to put on that I decided one day to stick it up with the rest of the sheets and use the original bedspread. I had every intention of using it again, just not that week. The week turned into months and the months turned into a year.  Since then, that $19.99 duvet cover and new bed skirt have been stored.
Every time I go to change sheets and see that duvet cover I get mad at myself for buying it in the first place.
I really started to seriously declutter last April and the more I give away, the more I realize that I don't need more. Therefore, I buy less.
My Three Big Mistakes.
1. Passing Free Time With Shopping. If you have free time don't spend it shopping. Save money!
2. Impulse Buying. Impulse buying is never smart.
3. Allowing Myself To Be Tricked By Clever Marketing. Am I really that gullible? Really?
Getting rid of what you don't use makes you more aware of what you don't need to buy. You don't need a duvet to be happy. Lesson learned.