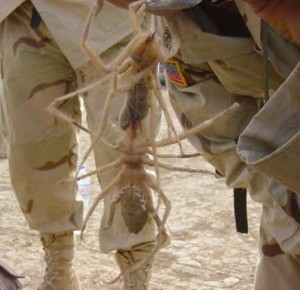 We found a spider today in the shower and after doing research we thought it might have been a Brown Recluse. That then motivated everyone in the house to look up ways to get rid of spiders. What caught my attention on the link below was the paragraph on organizing.
http://www.pestexterminator.com/spiders-states/
Keep rooms clutter-free and well-organized to avoid spiders who love making a home in small hiding spots.
Coincidentally I had just watched a Horders episode on TV that showed lots of cobwebs. Even in my own home and outside in the garden those cobwebs weave fast and large ones can appear over night.
If you find that you have camel spiders. well I think you may have bigger problems then clutter!
Don't give spiders a chance to find a cozy home in your clutter.