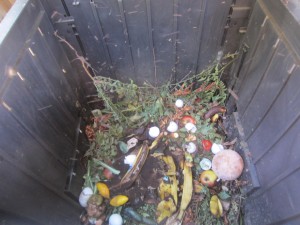 How to declutter food, PROPERLY.
Farming. It's in my DNA. The problem is, I don't live on a farm so I pretend and that is what started the problem.
Who out there doesn't hate throwing out food? Such a shame and what a waste is what comes to mind when I have to toss food that is no longer edible. If I keep it and it decomposes then it becomes good fertilizer for my garden.
With that in mind I started to throw food down the little hill in my backyard. Choosing an area away from the house was the smart thing to do because I knew it would attract lots of flies. I started to notice more and more squirrels around the back along with more flies and a strong smell of rot and ferment.
Then one night the dogs started to go wild. Barking was sure to wake up the neighbors so we quickly ran out there to grab them. They had cornered a "pig possum". That is the only way to describe this creature. It wasn't a normal possum but something out of a horror movie. We had never seen anything like it before. That thing, was after all that rotting food in my compost pile.
Clearly the way I was composting for my area was incorrect. That is when I purchased a composter. The picture on back of the instructions showed nice dark dirt coming out the bottom. So far that hasn't happened.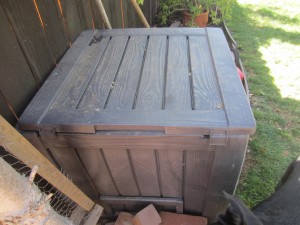 It has a long way to go before the thing is full but for now it does feel nice to be able to through out old food with the exceptions of meat, fat, and dairy. I'll do an update in a few months and let you know how it worked out.
 UPDATE
The whole family got involved but we never had that rich brown dirt as a result of our effort.
FLIES AND MORE FLIES!
We had more squirrels and raccoons and finally the decision was made to end our composting. Some was buried into ground and some went into the trash.
This container is now being used in the chicken area. I'll be back soon to let you know how it works for my girls.
2nd UPDATE
Composting was a disaster for me! Worst idea ever. All it really did was feed the rats and those rats told all of the other rats and we had a serious problem.
It didn't work out for the chickens. They were not interested in the plastic box.
Although the idea is terrific, I have yet to meet someone who was truly successful and didn't attract rats and flies and raccoons.
I won't do this again.
As far as decluttering food….throw it out and let the trash company do their job.