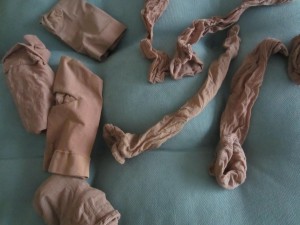 Pantyhose and nylons are not as popular as they used to be. Less popular if you live in warmer climates and rarely dress up.
Think travel. I remember a fashion designer saying that going to the airport now was like going to a velour tracksuit conference. Not like the olden days when women dressed up for travel with pantyhose and girdles.
Unless we have a quick turn around in fashion, few of us will wear all of those pantyhose in the drawers.
So now is the time to take them out and make a decision.
When was the last time you wore a pair? I could understand wanting to save a couple in case of a wedding or funeral.
Recycling
There are dozens, possibly hundreds of ideas out there for those that do arts and crafts.
If you don't need for arts and crafts then maybe today is a good day to simplify your collection.