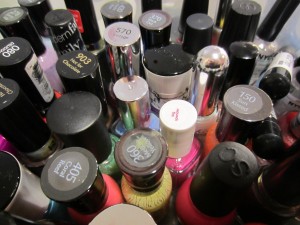 Fingernail polish is technically paint, right? So what do you do with paint, besides paint walls?
Art projects and marking or labeling things were the most talked about on the internet. In years past, I used to stop runs in the panty hose. More recently I've used to mark up keys.
Clear polish has the most possibilities. Painting over things that could use a clear coat to prevent rusting or to make something shiny.
My guess is most people eventually throw away bottles that are old and gunky. You could always add a thinner if your favorite color is getting too thick.
These things can be inexpensive to buy and maybe that is why we end up collecting so many.
Simplify your collection by giving away the ones you don't use.