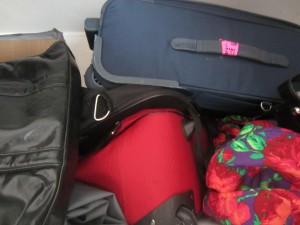 Several small events, all combined, have pushed me into working towards the life of a minimalist. For me personally, it is a clutter free life that offers freedom from stuff or sometimes even junk that consumed time and energy, and not in a good way. I was never a serious hoarder but I can completely understand the tendency.
On a repeat episode of Hoarders there was a man that collected lots of stuff but it was the first time they spent time on collecting suitcases. It reminded me of a time in my life during the 70's, when I had lots of suitcases. After spending the year abroad at a University it was time to come home. My suitcases, (plural) were full and HEAVY. Really heavy. Those were the days before all of the fancy rollers and lighter suitcases came out. Back in those days the suitcase itself was heavy.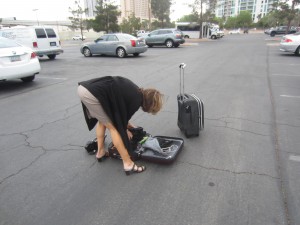 When I returned I thought I never wanted to see another airplane, subway, or train ever again. It wasn't because I didn't like to travel but it was because lugging those suitcases everywhere got old and made the traveling experience such an effort, not to mention the sore arms and back from all the lifting.
The public in general are smarter about traveling with too much luggage. One reason might be because many of the airlines now charge for luggage. The other reason is, if you go stand-by, you can't check in luggage.
That old luggage with many other bags and suitcases usually end up in top of a closet or in the garage. Some use for storing things. In that case, you need to ask yourself what you're storing and will you use or need in the next year.
Old suitcases can end up with a not so pleasant odor. Just open your old stored suitcase and take a whiff.
The question. What to do with suitcases and travel bags that you no longer use.
The answer. Get rid of them.
Sell at a garage or yard sale.
Take to the goodwill.
Find a charity that can pick up from your house.
Ask if anyone in the family wants them.
If it is in bad shape, toss it.
For the crafty person out there…..
Put legs on them and make a table and sell as creative art.