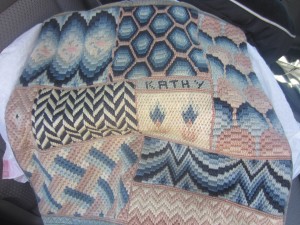 Who out there received gifts this year that were handmade by a family member? I did and I love it! Those gifts will be kept for a long time. Passion, thought and time was spent making it, just for you.
Seems almost cruel to get rid of them. Does this mean you have to keep forever?
NO!
Think about all of drawings, hand molds, ash trays (even though many of us don't smoke), popsicle stick masterpieces and more, that you have received over the years. You would need an entire room or more just to display.
It's not practical to keep forever. Here are some ideas;
1. Consider re-gifting your child's gift back to them or even to their children.
2. Memorialize it in a photograph.
3. Let family members know that you want to declutter and organize and give them the opportunity to take back some of those gifts they made at camp.
4. If these homemade gifts are stored under beds or in garages this is the time to take out and display. Turn them into conversation pieces.
5. Frame those works of art and put up on the wall.
6. If it is something someone else could use then give away.
7. Offer it back to the person that gave it. If it is something from their youth, they may want to keep it.
If getting rid of it would cause a family uproar then keep it.
If keeping it means more to one of your grandkids then maybe just for now, keep it. 
One in one out theory
Try this…for every gift you received, you get rid of something.