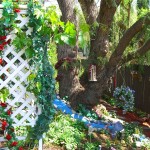 Gardening is at the top of my hobby list. Being outside before the sun comes up, with a cup of coffee, dressed in my crummies, getting ready to dig is the perfect morning for me. My first memory of gardening happened around age 8. I asked for carrot seeds and planted them in a little strip of dirt in the back yard. I watered and watched as they grew.  Then one day went out there to find that the Gardner thought they were weeds, and sprayed weed killer!
Farming is in my blood. My Basque grandmother from Gamiz, Spain and the rest of family were farmers. Yes, I've spent more than one summer turning hay, milking cows, picking apples and red pimientos and chasing field mice away at the Basque Casario.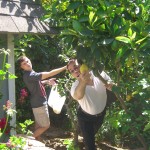 A few years ago one of my sons came to visit and informed me that my garden was beginning to look like those yards with too many pink flamingos. In other words, it was looking cluttered and ugly. He was right. I go through phases. Those of you with hobbies out there get that.
 I would soon be known as the crazy tulip lady
One of my phases was a tulip phase. It was a lot of work planting hundreds of tulips in September and it was shocking when they came up in February.
My Geranium Farm
Then there was the Geranium Phase. This is when I was trying to save money and asked friends and family for little snippets of geraniums. It wasn't long before people thought I owned a geranium farm.
When the junk mail would arrive the first thing I did was look for gardening doodads. It just got out of hand and those decorations eventually began to look old and weathered.
The thing with gardens is they are in a constant state of change. Weeds and more weeds and then there are the seasons. When it comes to the garden you can ask yourself the same 3 questions as before.
 Do I use it?
Do I need it?
Do I enjoy it?
I enjoy my garden. It is my playground with the kids in the family. There is nothing like the smell of dirt first thing on a Saturday morning.
Take time this week to enjoy your garden. Spring is coming!