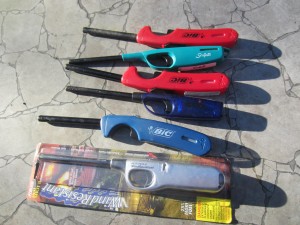 I don't ever remember buying any of these. We have a self lighting grill outside and matches if we need them, so there didn't seem to be a need to have these around the house. One of my sons may have used for a beach barbeque but those don't happen often.
Getting rid of these in the trash just didn't seem safe. I looked online,
"How to get rid of lighter fluid"
Here is a sample of the list;
Burn it
Put in your car
Dump it
Flush down the toilet
Use as a firecracker
One story was that of a kid who burnt down half of a school.
DON'T DO ANY OF THOSE!
Safest thing to do is use it. Have more beach BBQ's.
What did I do? I gave them away to friends and family.
It's fire season here in California.
BE AWARE and BE CAREFUL