Trying new things can be fun. When it comes to organizing, we know there are organizing gadget traps but then one hits the market that you think might be worth a try.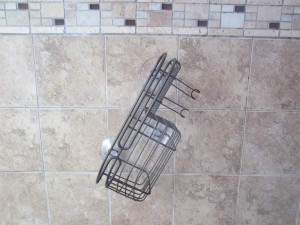 Having less in a shower makes it easier when deciding which shampoo or soap to use. So when I saw this little shower organizer, I knew this could possibly work. There was room for a soap bar and a couple shampoo products. Along with a 2 hooks to hang that squishy sponge and wash cloth.
IT DIDN'T WORK
Maybe it was me. I tried sticking on every which way with the exception of super glue. It was tempting but I didn't think the glue and humidity would hold and I would run the risk of messing up the tile.
This thing hung around the house in several places. Usually holding things that belonged in the trash. I just hit me one day when opening up the back utility closet. It was time to stick in the goodwill bag.
Organizing and trying new ideas is fun. Being perfectly organized is a process. Will we ever get there?
"Everyone wants to live on top of the mountain, but all the happiness and growth occurs while you're climbing it." Andy Rooney