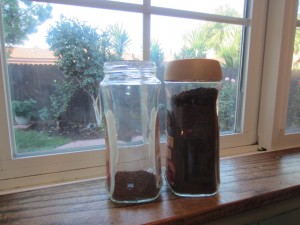 Surely I'm not the only person out there that gets excited when something is nearing the end, the new jar comes out and the thrill of throwing out or recycling is in air.
Yes, the coffee is almost gone and the new jar is ready to open. So I take the tablespoon that remains and dump it in the new jar.
Glass jars can be recycled in so many ways. They can hold many things and the fact that they are see through makes it easier to see exactly what's in there.
What to do with glass jars?
Recycle and use as a pin cushion, candle holder, fill with herbs or homemade food, glass bottle chandelier, vases, decorate and make pretty napkin holders, water glasses, pen and pencil holder.
For the crafty person, there is no end to what you can do to decorate these glass jars. For most of us, the answer is to get rid of it.
A key for maintaining organization is keeping a good balance of stuff. If you bring something into the house something has to go. If you buy a new shirt then get rid of an old shirt. This is a little trick that the pros promote.
Remember, being organized is a way of life. If you continue to bring things into the home without getting rid of stuff you will once again be surrounded in a heap of stuff. Stuff that may not add any value to your life.
Remember to recycle!