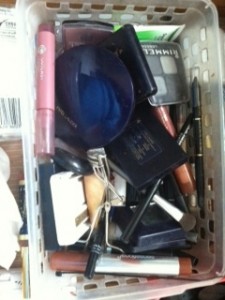 It is hard to pass up free. Everyone I know likes the price of free. How many free lipsticks are in your bathroom drawer? It is time to dump your makeup drawer or make up bag out on the counter. Include make up from you bathroom medicine cabinet and car glove compartment as well.
Divide and Conquer
Let's start. Separate your lipsticks, mascaras, liners, eye shadows, face make up, touch up sticks, fingernail polish, bobby pins, nail files, lotions, creams, scissors, and bar soap from the hotel.
Next, we need to consider possible health hazards. Most experts will tell you there is an expiration date to makeups and lotions. There of course it the smell test. You know the smell of rancid. If you smell that, then throw it out.
Protect Your Eyes from Infection
Mascara is always the one to be most concerned with because of eye infections. Keep 3 to 6 months. If the mascara wand is dry when you pull out then it is time to toss.
Powders and eye shadows could possibly last 2 to 3 years but honestly, if you have an eye shadow from 3 years ago you clearly don't like the color. Unless you are saving the bright blue eye shadow for that 70's party we talked about then toss them.
if you have an eye shadow from 3 years ago you clearly don't like the color.
Base Makeup
Water base – 12 months
Oil base – 18 months
Most women I know have kept some longer than that because of the different shades we use during winter and summer. Unless you are super organized and somewhat of a minimalist you probably have several bottles. Or you have poured from one glass bottle into the other and there is no way to know how old the stuff is, so at least do the smell test and then narrow it down. A couple of bottles should suffice for the year.
Unless you run a makeup studio, every women I know has too much. There is no way they will be able to use all of it within a reasonable time. Save yourself some money and next time they offer free gift  with purchase, give it a pass. I promise that free deal will come along again before you know it. Ignore it, because you will have already bought three new shades by then (unless you keep reading my site).
Lipsticks
Now lets talk lipsticks. Of all of the makeup, lipsticks seem to last the longest, about 3 years. I know my aunt has lipsticks from 15 years ago and they still work. So when they say a shelf life of  3 years, I think it is because of health reasons.
No one has more lipsticks than my sister. She has every color, every shade, shiny and not shinny.  Several times a year we go through all of them and she keeps a few. It's amazing how they accumulate so fast. She is happy to take the lipsticks from my mom's free gifts and I too am happy to give her from my gifts. I'm not so sure we are doing her any favors but my mom and I love the opportunity to give them to her.
Keep only what you use. Get rid of old make up.
Less is Always More
Clean out the drawer. If you organized your makeup today and didn't throw out any of it then something didn't work. The point is to narrow it down. Streamline your makeup.
Keep it really simple, it will save time and money.