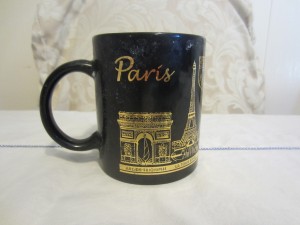 If there is one thing that all sophisticated world travelers have in common, it's their affinity for buying mugs that say where they've been. Nothing says "Been there, done that," like a mug that literally says where you've been, and what you did.
Don't Judge a Cupboard by It's Mugs
We have all bought souvenirs for others. It's the thought that counts and it's thoughtful while on a trip to buy a shirt, tiny spoon, mug, bowl, ashtray, magnets or a hat for that special someone. When it comes to buying for yourself, you might want to ask yourself, how many is too many? That is the question I asked myself this week.
Closet Gift Shop
We have a lot of souvenirs in the house, tucked away in closets as well as a bunch that are stored in the garage in a back pack. Souvenir is French and means a remembrance or a memory. The Paris mug pictured here, along with other mementos and keepsakes, come with a psychological connection and whether good or bad, there are emotions attached to our things.
There are dozens of stories, if not more about the trip we took to Paris. We have photographs and several of us share those same stories. So why hold onto the mug that is hardly used? For one thing, it can't go in the microwave because of the metallic gold. We used if for awhile as a pen holder but then how many mugs full of pens do you need around the house?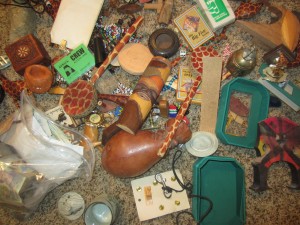 It was time for the mug and other souvenirs to go and time for someone else to own them. Things from all over the world, taking up space and not being enjoyed by anyone for many years.  We kept a few but the rest went into the goodwill bag.
Next time you are on a trip, think twice before buying.
Save your money! When you declutter and get rid of what you don't use or enjoy, your thinking will begin the change.
When your thinking changes, your buying habits will also change.