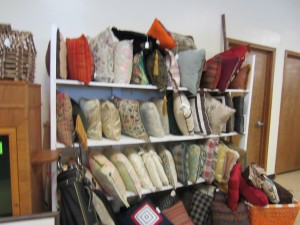 Decoration or just an irritating tiny pillow?
I have 4 white ones that I hesitate to use because they will quickly get dirty. They are kept up high in a closet and occasionally come out if company is coming over. The problem is, when the company comes over they are put on the ground beside the couch because they take up an entire seat on the couch.
Why am I keeping those pillows? Because they were expensive.
We are now creating a pile for a garage sale. This will most likely be the one and only garage sale that I will host. Other family members are in charge but getting a dollar for those pillows plus not having to see them on top of the closet is enough incentive for me.
Pillows in general, eventually need to go. Dirt, bacteria and scary looking bugs under the microscope would convince you of that.
Is it time to get rid of the throw pillows around your house?
Do you use them?
Do you need them?
Do you enjoy them?