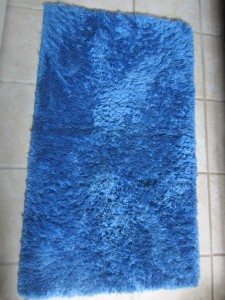 The simple answer would be to get rid of them. For the minimalist, they are not needed. At the same time we need to be practical. In my effort to vigorously declutter one day, the bathroom rug caught my eye. At the time I bought it, I am sure I thought it looked good, but the wear and tear and the washings finally took it's toll.
I was OK with no mat or rug in the bathroom but not everyone in the house felt the same. Every other morning I would notice that someone had put down a towel to soak up that extra water. How in the world there was that much water to shake off ones body, was a mystery. Maybe the shower accidentally sprayed the whole bathroom. Either way it was becoming clear to me that I had to do something.
During my lunch hour I thought I could do a quick errand (buy my favorite lipstick from the beauty supply) and right next store was a "Big Lots". I've been in there only a few times but when I entered the store I knew this would take awhile.
You would think I would know better but I started to go up and down every isle. The best buys ever! Colors were bright! Price was right! This was turning into a fun day! It didn't take long and my basket was full. In it… a new bathroom rug, with matching towels and bingo, a matching shower curtain. I couldn't resist a few little things for my grandson and of course the shampoo and soap isle had all sorts of great buys.
The good news is in replacing some of these household items, I quickly got rid of the old stuff. Either the trash or recycling or the goodwill.
REPLACE
This is another good rule of thumb. If you want to update or need a new rug then you are simply replacing. Remember to get rid of the old.