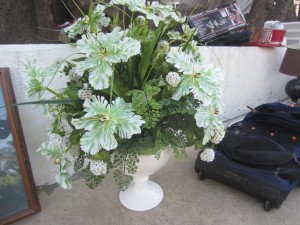 Put them in garage sale. Yeah, that will work. Then what do you do if no one wants to buy them? Even worse, what if no one will even take them for free?
Yes, this is exactly what happened.  The neighbor had a garage sale. They made a little bit of money. Hardly worth the trouble but it does make us feel better to sell and get back a little bit of the money that we foolishly spent.
Things were free at the end of the day and even then they were still left on the driveway.
They were pretty but fake flowers aren't as popular as they once were in decorating our houses. One alternative is to pull out the individual flowers and carefully place in your garden.
I once had a Gardner compliment my flowers and I didn't have to heart to tell him they were all fake. It would have been a little embarrassing but worse for him, who was an expert in flowers.
If you are not enjoying your fake flowers as you once did, then maybe it is time to get rid of them. After all, they do seem to attract the dust. Who out there wants to spend time dusting these?
It's your decisions. Full disclosure….. I still have a few, that includes a few in the garden. They don't last long out there and soon a few of those will end up in the trash.