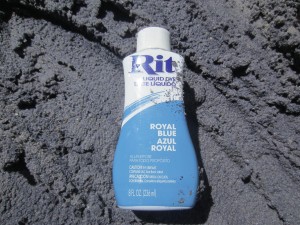 Who likes waste? No one I know. There are ways to use some of these products that we buy only to use a little. Even if you have used 3/4 of the bottle, there is enough in the bottle that you don't want to throw away, but how long is too long to keep?
The brand that I had in the cabinets up above the washing machine was RIT DYE. I bought a long time ago to use in the wash with Jeans to get some color back into the material. It never worked the way I wanted it to, so up in the cupboard it went and that is where it stayed, until now.
Looking for creative things to do in the garden is my thing. I started to look for colored sand and was not able to find in my area. That is when I thought about using this old leftover dye.
Others had tried and retried so there was good direction on the internet. It did work. White Play Sand with water and dye. It was that simple. In fact it was so much fun to make I looked up in the other cabinets to see if there was food coloring. Sure enough, I had that too and it has been awhile since I made anything needing food coloring. This comes with a word of warning. Let the sand dry and don't use too much coloring or you may have stained hands or feet in my case because I often walk around the garden with out shoes.
 The short answer to many of these questions of WHAT TO DO WITH….is always to throw out, give away or sell if you haven't used in a year but I do understand the need to get the most out of things you have bought.
 Be Creative!