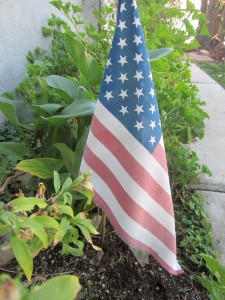 Getting rid of an American flag almost feels illegal. They represent freedom and also a severe reminder of the price paid by so many families who had loved ones that were killed in action like my mom's uncle.
The sight of a flag at the right moment can tug at our heart, especially if you hear music in the background.
Flags are not unique just to those of us living in North America but all over the world. Flags are symbols of patriotism and give a sense of belonging to a group.
But what do you do when you have old flags that are not being used?
An internet search will bring up several articles on Flag Etiquette.
Below are 2 recommendations for disposal;
When the flag is in bad condition it needs replacing. Buy at a flag store and they will take your old flag.
Destroying a flag by burning in a dignified way is recommended. Warning! We don't want to start fires! Check with local organizations that have burning ceremonies.
When it comes to the smaller ones, like you see above, most of us throw out or recycle. When in doubt, recycle.
Happy Forth of July!