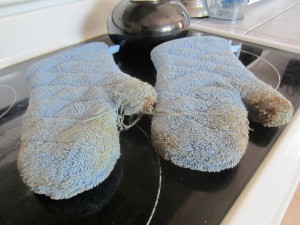 Karen had this one favorite pair of oven mitts. She also had many more scattered around in several drawers in her kitchen.
She is in the process of organizing her kitchen and more space would make it easier to locate things. Oven mitts with holes in them are a dangerous way to get burned. That meant this pair had to be thrown away.
Downsizing is a good way to get organized.
Look around your kitchen and count how many oven mitts you own. If you are feeling energetic, look at other things as well. Maybe it's towels or tile hot plates that are squished into the drawers that could be downsized.
We use all of it but we really don't need that many. Creating more space in the kitchen gives us extra breathing room for when we have to cook, especially big meals for lots of people.
Make due with less and you won't just feel more organized you will BE MORE ORGANIZED!