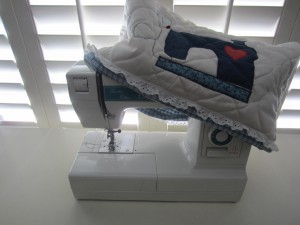 Back in the 60's I think every house on the block had a sewing machine. How many of us remember being in the local store, trying to stay out of trouble while our mothers would look through patterns.
Everyone my age had to take homemaking in high school and all of us girls learned to make at least a couple of tops or dresses in those classes.
Those days are over. Clothes are now cheaper to buy than to make.
My mom still has her sewing machine and used it last year to make a costume for one of the grand kids. It's also occasionally used to fix a hem.
I have one that is old and sentimental. It's never used. I keep thinking it's worth something.                   
Others out there thought the same thing. That is why they are all over the place and no one will be paying me the thousands that I was hoping for.
Some things are easier to part with than others. This one for me is more difficult but I was ready to take to the goodwill and happen to mention to my mom.
She wanted it.
Giving things to family members is a good way to get rid of something sentimental.