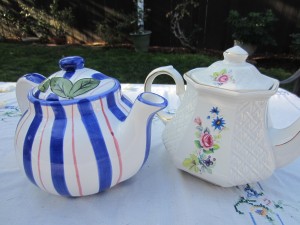 Life is about making memories.
This story is in honor of my Auntie Bette. She passed away in Nov of 2015.
ZOMBIE TEA PARTIES
Bette was a real southern lady. It was important to her that she teach her daughters and grand daughters manners.
She was beautiful and smart but it was her sense of humor that made her famous.
One day when her grand daughters were visiting, she suggested that they would have a tea party. This was her opportunity to teach them how to properly sip tea, with the pinky finger extended and then how to blot like a lady with the napkin, along with polite conversation.
At some point during their tea party, Bette would grab her throat and would pretend like someone had poisoned her tea. With a wink in her eye, she would rise up with arms extended and announce she was a ZOMBIE and the fun screaming and running around the house would begin.
The ending was always the same. She would find them and tickle and kiss them.
It soon became a tradition. One of her grand daughters, through her tears, retold this story at Bette's memorial service.
Her influence was tremendous in our lives. I can only imagine her reunion with my dad and the rest of our family in heaven.
Love live the ZOMBIE TEA PARTIES!