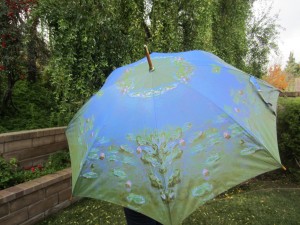 In Southern California we occasionally have STORM WATCH. This typically means there are a few clouds in the distance and we  hope against all odds that it might rain. We get out the umbrellas and yet again are disappointed with a little sprinkle.
Don't get me wrong. It does actually rain here but just not a lot. The truth is, when we don't have sun for one day, many of us panic.
These things were an absolute necessity when I lived in England.
But what do you do with them if they are broken? It wasn't uncommon for kids to use as swords or for a big wind to come along and turn one inside out.
Getting poked in the eye by one of the metal sticks that holds it together, is not fun. The safe thing to do – get rid of broken umbrellas.
Using for shade is another use but I rarely see that and I live where it's sunny most of the time.
If you are creative you could pull it apart and use the metal sticks in the garden or……you could simply recycle.
Apart from shelter from rain, using to shelter you or the food on your picnic table from the sun, there isn't much more we can do with umbrellas.
Do you use it?
TIP – Keep what you use and get rid of what you don't use. That includes umbrellas.