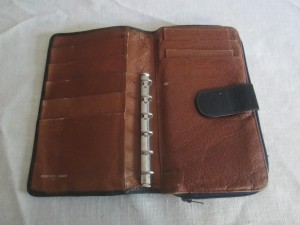 There is something nice about having something new. After years of having the same wallet I thought it would be nice to get a new one and replace the old.  The old one was fine, not broken or ripped but it was looking kind of raggedy.
The wallet was too big anyways. Lots of hidden pockets meant carrying around pointless business cards and pieces of paper.
Some women end up with neck and shoulder pain from carrying around heavy purses with bulky wallets and all of the other fun stuff that you can find in purses.
Replacing is the key word.
This wallet quickly ended up in the goodwill sack.
One of the best suggestions I ever heard when it comes to wallets is to take out everything and make a photo copy, especially before a trip. If you have ever lost your wallet on a trip you will know what I am talking about.
I wasn't able to find anything fun or clever to do with wallets. Only that people make wallets out of all sorts of material including duck tape. They have a purpose and that is to carry around your most important information. Knowing what's in your wallet and having those numbers , like your drivers license, somewhere else is critical.
The men in my family have quite the reputation (Rick) of losing wallets. First they accuse…"where did you put my wallet" Then it's the frantic phone calls to cancel the cards. Followed by everyone stopping what they are doing and looking for it. Only to find under a couch cushion.
Really? Yes Really!